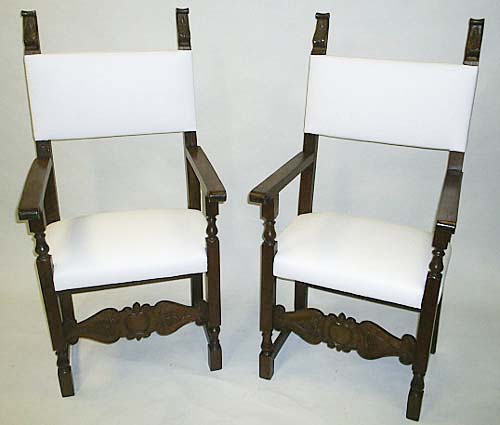 Price $2,214
Item 3301 - Width 25, Height 51, Depth 19 (in inches)
Wood - Walnut
Date - Circa 1890
Country of Origin - Italy
Additional photos below text
These two matching Renaissance chairs are fine examples of the 19th century revival in Europe of interest in designs from the Italian Renaissance. The armchairs are a classic Tuscan design seen in museums and villas throughout the region, such as the one-time home of eminent art historian Bernard Berenson, I Tatti, outside Florence. Having developed from a shorter, less decorative model in medieval times, this high-backed design with a broad seat lent authority and elegance to the homes of prosperous Tuscan merchants where chairs with arms, like thrones, were usually reserved for the head of household and the most important guests while everyone else sat in armless versions.
Elegantly simple of design, with basic perpendiculars for the legs, backs and arms, these chairs are remarkably comfortable. The only decorative elements are found in the stylized acanthus leaves of the finial and the elements of a rustic fleur-de-lys peeking out around the central oval of the front horizontal stretcher. Although the fleur-de-lys is most often associated with France, it was also the symbol of the city of Florence, to which these chairs most likely pay homage.
Outside of Tuscany, this style of chair was also popular in Lombardy at the end of the 16th century and throughout Southern France, especially the Languedoc region. Although usually covered in leather and studded, this matching pair of chairs has been covered in muslin so that the buyer can select the ideal upholstery.
Reference
Ader-Tajan, Collection Armand Trampitsch (Catalog for Sale at Auction on May 18, 1992 at the Hôtel Drouot, Paris; Ader-Tajan, Collection Bruno Perrier Haute Epoque (Catalog for Sale at Auction on April 6, 1992 at the Hotel Drouot, Paris); Burckhardt, Monica, Mobilier Moyen-Age, Renaissance (Editions Ch. Massin, Paris, Undated); Fioratti, Helen Costantino, Il Mobile Italiano dall'antichita allo stile Impero (Giunti, Florence, 2004)
Uses
These chairs are ideal for an entryway, an office, a living room, or any location where authority and elegance are desired.