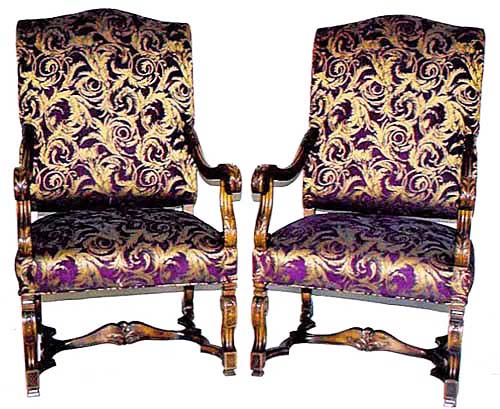 Price $3,995
Item 3106 - Width 26, Height 45½, Depth 24 (in inches)
Wood - Walnut
Date - Circa 1880
Country of Origin - France
Additional photos below text
It is unusual to find a pair of matching Louis XIV style chairs in such fine condition in terms of sturdiness and stability, and even rarer to find them made of burnished walnut rather than the gilt beech wood common in Louis XIV's day. Although not as intricately carved as others we have offered, these chairs embody the classic Louis XIV characteristics of graceful acanthus leaves at each end of the arms and scrolled flourishes on the arm supports and on the vertical members of the base. The tops of the backs of these chairs are gently curved rather than straight, a reflection of the style popular during the last two decades of Louis XIV's seventy-year reign. A scalloped design and a stretcher with a stylized flower in the center and on the front legs complete the base.
These chairs may have been inspired by a chair in the collection of the Louvre Museum and shown on page 37 of the book by Rousseau, as referenced below. The chairs have been recently refurbished with new springs and padding as well as reupholstered in a richly regal purple and gold fabric, based on an acanthus leaf design, to complement the overall design and to reflect the emphasis on richly woven fabrics at the time of Louis XIV.
Reference
Quette, Anne-Marie, Le Mobilier Français Louis XIII et Louis XIV (Editions Massin, Paris, 1996); Rousseau, Francis, Le Grand Livre des Meubles (Copyright Studio, Paris, 1999)
Uses
These chairs command attention in a living room, study, bedroom or even an office. Comfortable and gracious, they complement many styles of furniture.