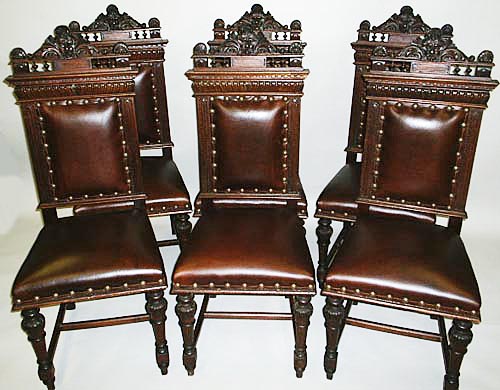 Price $5,995
Item 4128 - Width 17½, Height 45½, Depth 17½ (in inches)
Wood - Walnut
Date - Circa 1890
Country of Origin - Italy
Additional photos below text
These six matching dining chairs are the rare combination of intricately carved walnut in Renaissance design and new leather upholstery. Overall, their reliance on Renaissance architectural elements such as the palm and acanthus leaf, and especially the shell, are pleasing. Renaissance artists incorporated these symbolic elements in their religious works such as the scallop shell or coquille saint-jacques representing St. James and the medieval pilgrimage destination of Santiago de Compostela in northwestern Spain. In his Madonna and Child with Saints (the Montefeltro Altarpiece in the Brera Gallery in Milan), Piero della Francesca uses the scallop to frame the upper part of the elongated architectural niche at the front of which the figures gather. Associated with fertility, the shell was also found in classical settings, such as transporting to shore Botticelli's seagoing, raven-haired beauty in his Birth of Venus in the Uffizi Gallery in Florence. On these chairs, the stylized scallop shell is found atop the back at the center and on both sides and resembles more closely the shells used at the top of niches containing sculptures, such as that of Christ and St. Thomas by Andrea del Verrocchio, set into the sides of the Church of Orsanmichele in Florence.
Other Italian Renaissance architectural elements on display in these chairs include the elongated palm fronds framing the sides of the back panel and the shortened version at the top, just below the shells. Gadrooning on either side of a central acanthus leaf forms the base for the top of each chair in which the intricately carved figure is a head, possibly a lion, a cat, or a stylized interpretation of the Italian Renaissance grotesque, is framed within a triangular shape of curving acanthus leaves. The acanthus leaf is also in evidence on the base of the chairs, at the top of the front legs.
The seats of these chairs have been restored and the springs retied. Seats and backs, including the reverse side of the backs, have been newly covered in aniline dyed full-grain leather whose rich brown hue and sheen complement perfectly the lush patina of the walnut.
Reference
Antiquités et Objets D'Art 10, Le Mobilier Italien (Editions Fabri, Paris, 1990); Costantino Fioratti, Helen, Il Mobile Italiano (Giunti Editore, Firenze-Milano, 2004); Rousseau, Francis, Le Grand Livre des Meubles (Copyright Studio, Paris, 1999).
Uses
Comfortable, stylish, and sturdy, these chairs are ideal for a formal dining room in which guests will linger contentedly for hours over food, wine and conversation.