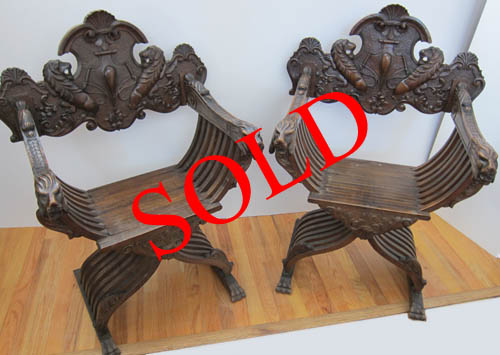 Item 5101 - Width 30½, Height 41½, Depth 23 (in inches)
Wood - Walnut
Date - Circa 1880
Country of Origin - Italy
Additional photos below text
Although having strong connections to France and seen regularly in that country during the Renaissance, the Savonarola Chair is a distinctly Italian creation that has captivated us ever since we were teenagers. We take pains to keep several pairs in stock at all times but they have become increasingly difficult to find — especially ones like these — heavy, elaborately carved, and unusually sturdy.
This set of chairs commands attention for its most unusual crest rail. It is tall and divided into a high, central zone and two lower, outer zones. Each zone is capped by a stylized scallop shell. The central zone is filled with an escutcheon in whose center is an inverted teardrop. Dividing the outer zones from the central one are crouching lions complete with elaborately carved manes, paws, and tails. These figures are placed against a background of textured (stippleded) walnut resembling the rustication of buildings such as the Medici-Riccardi Palace in Florence.
Extending out from the frame in which the crest rail sits are intricately carved armrests culminating in lions' heads. These lions seem less ferocious than the ones on the crest rail and have a sleepy, almost dog-like quality to the design. Completing the references to lions are the chairs' feet in the lion's paw design, something characteristic of the original Savonarola chair design but missing from the ones so prevalent on the Web and dating from the 1940s or 1950s.
Unlike typical designs, these Savonarola chairs have additional flourishes of sculpted decoration on the front ribs comprising the armrests and the legs. Below the seat, the scallop shell motif is seen again, but this time it is inverted. The exuberance of ornament makes this pair unique among the dozens we have offered over the years.
The chairs have been rendered non-folding — a condition likely responsible for their preservation. The X-shape of the arms, intersecting at the seat, and extending to become the legs, is unusual and especially well-constructed owing to eight ribs rather than the typical six ribs on each side (characteristic of later and less well-preserved chairs). Like all the chairs we offer, they are usable and comfortable for sitting, not just admiring.
Reference
Antiquités et Objets D'Art 10, Le Mobilier Italien (Editions Fabri, Paris, 1990); Costantino Fioratti, Helen, Il Mobile Italiano (Giunti Editore, Firenze-Milano, 2004); Rousseau, Francis, Le Grand Livre des Meubles (Copyright Studio, Paris, 1999)
Uses
These chairs are ideal for an entryway or foyer, on either side of a table in the Italian Renaissance style. They also go well with Gothic pieces due to their timeless design and grace.