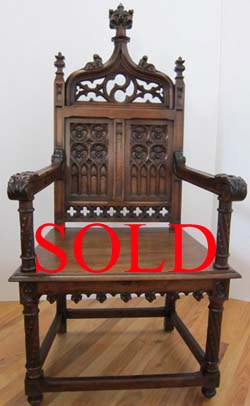 Item 4180B - Width 25 Height 51, Depth 19 (in inches)
Wood - Walnut
Date - Circa 1880
Country of Origin - France
Additional photos below text
This Gothic armchair was acquired at the same time as Item 4180A and provides a shorter, broader shape in contrast to the tall, slim high-backed chair that is Item 4180A.
What attracted us to this chair was the massive, three-dimensional fleur-de-lys atop the arch of open fenestrage or tracery forming the upper section of the chair. Such renderings of the fleur-de-lys were common in Gothic times and sometimes were modified to resemble flames. When used at the top of an ogee arch, as in this case, the flame denotes the flamboyant or "flaming" style of Gothic adopted near the end of the Middle Ages.
The central panel of the back of this chair is subdivided into two panels of Gothic fenestrage or tracery. Similar to Item 4180A, the basic design involves lancet arches and circular shapes, but this time the lancet arches are not part of a larger arch and the focus of the design is the four circular shapes, in two tiers above the arches.
The columns comprising the vertical supports for the seat and the armrests are reminiscent of cathedral columns with their diagonal, interlacing pattern. One Renaissance element intrudes, reinforcing the notion that stylistic elements were mixed both in the transition from Gothic to Renaissance and in the 19th century revival of both styles. Each armrest ends with a curled acanthus leaf, that staple of Renaissance design and opportunity for artisans to demonstrate the virtuosity of their carving.
It is interesting to contrast the scale of elements in the panel atop this chair with that in Item 4180A. In 4180B, aspects such as the fleur-de-lys and the crocketed finials are broader, more substantial than those of Item 4180A which is taller. Chair 4180B evokes more of a broad and sturdy item of seating than the refinement and elongated elements of the more ceremonial 4180A. Both are undeniably Gothic but in their contrasting elements and overall shape they reinforce how different the overall impression can be yet still belong to the Gothic style.
Reference
Boccador, Jacqueline, Le Mobilier Français du Moyen Age à la Renaissance (Editions d'Art Monelle Hayot, Saint-Just-en-Chaussée, 1988); Thirion, Jacques, Le Mobilier du Moyen Age et de la Renaissance en France (Editions Faton, Dijon, 1998); Viollet-le-Duc, Eugène, Le Mobilier Médiéval (Georges Bernage, editor) (Editions Heimdal, 2003)
Uses
This chair is comfortable and sturdy - ideal at the head of a dining table or as an occasional chair in a living room or study.