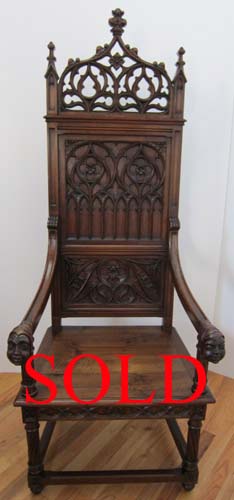 Item 4180A - Width 24½, Height 63, Depth 20½ (in inches)
Wood - Walnut
Date - Circa 1880
Country of Origin - France
Additional photos below text
This high-backed Gothic armchair evokes a bishop's throne or chayre as used in the Middle Ages but with a grace and refinement reserved for the 19th century revival of the earlier style. Intricate tracery or fenestrage on the back provides the common theme.
The central panel of the back portrays a classic design from Gothic cathedrals - four pointed arches, each of which contains two slim lancet arches, supporting a circular shape having a central quatrefoil surrounded by a tear-drop shape framed by mouchettes.
Particularly unusual is the lower panel of the back in which a half-moon shape forms the main arch and is filled with seemingly every design element known to Gothic tracery, but in swooping and swirling diagonal forms we have never seen combined in this way.
Atop the chair is a wide panel of open tracery framed by a graceful, crocketed ogee arch and crowned by the stylized flame or fleur-de-lys so characteristic of the Flamboyant Gothic style of the late Middle Ages. Crocketed finials support the panel on either side, each with containing a lancet arch.
In keeping with benches of the Gothic period, and to which this chair owes much of its overall design, the armrests end in carved, hooded faces. While not identical, the faces have a similar expression of aloofness, neither happy nor sad.
With a nod to the caquetoire design of armchairs, this chair has a base without a central stretcher but rather a trapezoidal shape mimicking the seat. Other beautifully carved aspects of this chair include the bracket at the back of the armrest and the frieze below the seat.
No description would be complete without remarking on the beauty of the walnut. Not stained too dark, the color of the wood is bois naturel and the fine grain are visible on the seat — a pleasing contrast to the intricate carving that characterizes the rest of the chair.
Reference
Boccador, Jacqueline, Le Mobilier Français du Moyen Age à la Renaissance (Editions d'Art Monelle Hayot, Saint-Just-en-Chaussée, 1988); Thirion, Jacques, Le Mobilier du Moyen Age et de la Renaissance en France (Editions Faton, Dijon, 1998); Viollet-le-Duc, Eugène, Le Mobilier Médiéval (Georges Bernage, editor) (Editions Heimdal, 2003)
Uses
This is a chair exuding authority and sophistication, suitable for many uses including at the head of a dining table, in an entryway, or with pride of place in a living room.