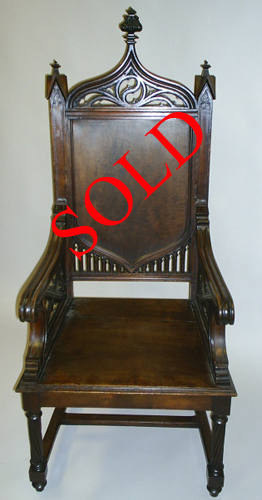 Item 4126 - Width 26, Height 57, Depth 21½ (in inches)
Wood - Walnut
Date - Circa 1890
Country of Origin - France
Additional photos below text
This high-backed armchair is an imposing presence, incorporating both Gothic design elements with a touch of the Renaissance but allowing the beauty of the old growth walnut to shine through in its own right.
The central part of the back, unadorned, is in the shape of a shield. Above it is a graceful ogive arch filled with open tracery combining soufflets in a circular motif, reminiscent of the yin and yang of Chinese philosophy.
Topping the arch is a three-dimensional fleur-de-lys or iris, also interpretable as a flame as found in the flambe atop Gothic arches in the late Gothic style of architecture and decoration known as "flamboyant."
Below the central shield comprising the back are tiny Gothic arches, finely detailed in an open fenestrage or tracery design.
Defining the sides of the back panel are square pillars, with a lancet design on the front, crowned by four-sided triangular finials reminiscent of the peaked roofs and bell towers. These finials and the central one are all topped the same square ornamental design.
The armrests are imposing, curving graceful at their ends and united with the seat by an X-shaped pattern from which trefoil patterns have been carved out to reveal yet more tracery.
The seat rests atop four legs, the front two of which are carved in the diagonal pattern typical of columns in Gothic cathedrals.
Gently sloping, the back of chair is designed for comfort and achieves that objective despite the lack of cushions or upholstery. The reverse side of the back, although not designed to be seen, is beautifully finished in a manner that draws attention to the fine grain and subtle coloration of the walnut.
Reference
Ader-Tajan, Collection Bruno Perrier Haute Epoque (Catalog for Sale at Auction on April 6, 1992 at the Hôtel Drouot, Paris); Boccador, Jacqueline, Le Mobilier Français du Moyen Age à la Renaissance (Editions d'Art Monelle Hayot, Saint-Just-en-Chaussée, 1988); Charles, Corinne, Visions d'Intérieurs, du Meuble au Décor (Paris-Musées, Paris, 2003); Thirion, Jacques, Le Mobilier du Moyen Age et de la Renaissance en France (Editions Faton, Dijon, 1998); Viollet-le-Duc, Eugène, Le Mobilier Médiéval (Georges Bernage, editor) (Editions Heimdal, 2003)
Uses
As used by the 19th century French novelist Victor Hugo who collected Gothic Revival furniture, such a high-backed chair is ideal for a dining room, signaling the rank of paterfamilias or otherwise elevated status. It would also lend authority to a foyer or entryway, library, or any room inviting a bit of grandeur.