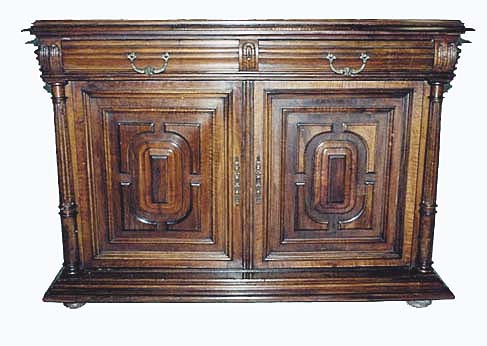 Price $1,347
Item 1024 - Width 55, Height 40, Depth 22.5 (in inches)
Wood - Walnut
Date - Circa 1890
Country of Origin - France
Additional photos below text
This walnut antique buffet cabinet or sideboard is a classic of the style known as Henri II or Renaissance Revival. It features the typical stylistic elements of rectilinear mouldings and raised panels as well as fluted columns on either side and plume motifs framing the two drawers.
Although primarily solid walnut, the base has some veneers. The top has been replaced with solid, ¾-inch walnut.
The hardware, particularly the drawer pulls, are intricately detailed and original, incorporating a minute and grotesque visage.
A fine example of 19th century handmade furniture, this piece is particularly pleasing in the richness of the French walnut of this period.
Reference
Rousseau, Francis, Le Grand Livre des Meubles (Copyright Studio, Paris, 1999)
Uses
This cabinet is ideal as a buffet in a dining room or kitchen as well as in other rooms of the house to store linens. It could even be used as a credenza in an office setting or library.