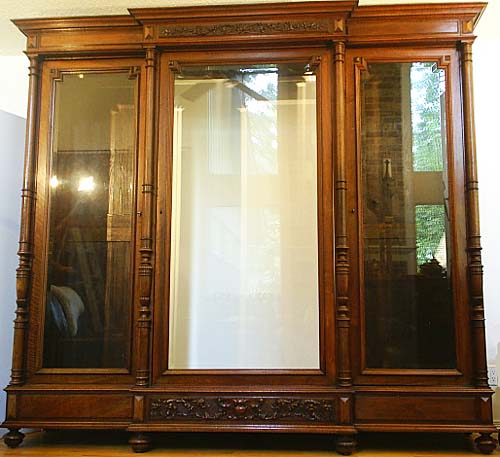 Price $8,888
Item 9225 - Width 104, Height 94, Depth 25 (in inches)
Wood - Walnut
Date - Circa 1880
Country of Origin - France
Additional photos below text
This antique library cabinet or bookcase is called a bibliothèque in the land of its birth in northern France. It has three beveled glass doors and has been updated with glass shelves and a low-voltage lighting system to highlight the items displayed within. The doors lock with their own original keys. Made from solid French walnut, the cabinet dates from the 19th century revival of interest in gothic and Renaissance furniture, and displays stylistic features commonly referred to as Henri II. These include the columns on either side and between the glass doors with their intricately carved turnings, and the hand-carved floral motifs at top and bottom.
For ease of mobility, the cabinet breaks down into 10 pieces. Items displayed in the cabinet are for sale separately, but the price of the cabinet includes the glass shelves and low-voltage lighting system.
Reference
Fligny, Laurence, Le Mobilier en Picardie 1200-1700 (Picard Editeur, Paris, 1990)
Uses
The cabinets are ideal for any room in which items such as ceramics, porcelain, crystal, etc. will be displayed. They could even be arranged back-to-back as the focus of a large room or as a room divider.