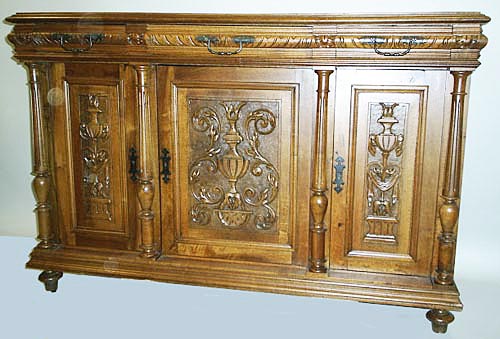 Price $1,595
Item 3094B - Width 62½; Height39; Depth 21 (in inches)
Wood - Walnut
Date - Circa 1920
Country of Origin - France
Additional photos below text
This cabinet dates from the first quarter of the 20th century but sports an abundance of Medieval and Renaissance motifs. The center door has a carved motif of urns with flowering leaves and fruit, contained therein, and overflowing as well. The two smaller doors on either side of this cabinet are similar, with carvings of urns and their contents. All of the doors are flanked by fluted walnut columns. Directly below the top is a frieze containing three drawers with the original drawer pulls. The elaborate mouldings below the top and near the floor, above the front bun feet, express the architectural spirit of the piece.
While the front, sides and top are all solid walnut, the interior shelf that runs the width of the cabinet, and the back, are both oak. This is in keeping with construction techniques in the 20th century. All hardware is original, locks are functional and keys are included. The cabinet has been refinished by our expert craftsmen, and gives almost a "Showroom" appearance. As with everything we offer there are no structural problems, stains or burns to contend with.
As so often happens when trying to photograph solid walnut furniture, there is a variation in the color in the photographs caused by the lighting and the angle. The color that is truest to the piece is that in the picture at the top of this page.
Reference
Boccador, Jacqueline, Le Mobilier Français du Moyen Age à la Renaissance (Editions d'Art Monelle Hayot, Saint-Just-en-Chaussée, 1988); Rousseau, Francis, Le Grand Livre des Meubles (Copyright Studio, Paris, 1999).
Uses
This unusually shallow, 3 door cabinet is a perfect piece to use in an entry hall or behind a sofa...and also to contain a goodly amount of those family treasures that pile up in all our homes.