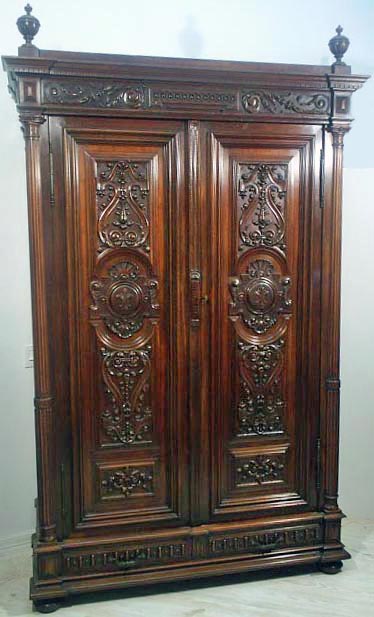 Price $7,887
Item 3092 - Width 54, Height 90, Depth 23½ (in inches)
Wood - Walnut
Date - Circa 1880
Country of Origin - France
Additional photos below text
This armoire is one of the most beautiful examples of the 19th century revival of Renaissance style to come on the market in recent years. It is made of solid French walnut and is entirely hand-carved. For ease of transport, it breaks down into component pieces of back, sides, doors, base and crown. There are two drawers in the base and the interior is fitted with removable shelves. Using basic elements of grotesque decoration, such as arabesques of the so-called Second Renaissance stimulated by the Fontainebleau design workshops, this armoire celebrates and re-interprets them with a pleasing, understated look that fits 21st century design preferences as well.
At the center of both doors is a stylized fleur-de-lys under the feather crown motif so characteristic of the 16th century furniture makers' fascination with costumes native to the New World. Unlike its 16th century predecessors, however, this armoire eschews human figures or mythological illusions but rather adheres to a cleaner aesthetic of graceful curves and symmetry within an overall architectural framework. Interestingly, it uses the common Renaissance element of gadrooning to surround the base but with perpendicular rather than angled beading. The result is a monument to the creativity and consummate workmanship of 19th century French craftsmen. Having obtained this piece when it had just come on the market from its original owners, its condition is pristine, especially the interior. The armoire is topped by two toupies at the front corners.
Reference
Boccador, Jacqueline, Le Mobilier Français du Moyen Age à la Renaissance , Editions d'Art Monelle Hayot (Saint-Just-en-Chaussée, 1988); Thirion, Jacques, Le Mobilier du Moyen Age et de la Renaissance en France (Editions Faton, Dijon, 1998)
Uses
Owing to its construction without a central vertical member between the two doors, the armoire is adaptable to many uses in a modern home or business. Ideal uses include as an entertainment center or for storing linens, etc.
The most representative color, given the challenges of photographing dark furniture, is in the image at the top of this page.