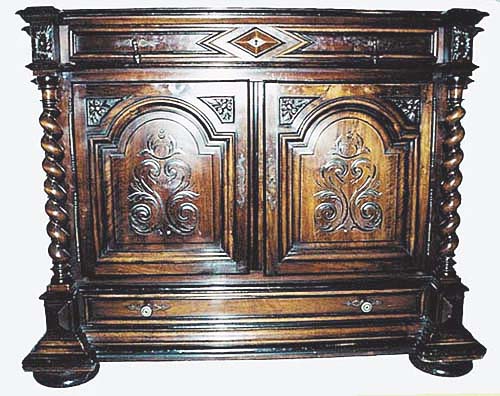 Price $2,875
Item 1032 - Width 54, Height 43, Depth 23½ (in inches)
Wood - Walnut
Date - Circa 1850
Country of Origin - France
Additional photos below text
This cabinet is a triumph of the Louis XIII style enhanced by intricately incised carving and ebonized trim. A classic pantalonnière cabinet with single drawers extending the entire width at top and bottom, this piece has been retro-fitted with three interior drawers behind the double doors. The term pantalonnière refers to pieces designed to store men's trousers and were common in the homes of French aristocrats who were fortunate enough to own many such garments.
Particularly distinctive about this cabinet is the incised carving on the two doors, dating from a time when bas relief was more typical, as seen in the spandrels of the upper corners of the door panels. Characteristic of the Louis XIII style of furniture, however, are the graceful torsades (sometimes referred to as "barley twists") acting as a vertical framework for the cabinet, balanced at top and bottom by a fleuron and a "sandpile" rectangular ornament, respectively.
Reference
Rousseau, Francis, Le Grand Livre des Meubles (Copyright Studio, Paris, 1999)
Uses
This cabinet is suitable for many uses including storing linens in a dining room or kitchen as well as clothing in a bedroom.