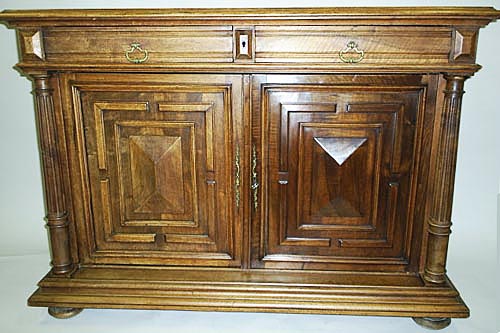 Price $1,027
Item 3306 - Width 55, Height 38½, Depth 20½ (in inches)
Wood - Walnut
Date - Circa 1900
Country of Origin - France
Additional photos below text
This cabinet or sideboard is a fine example of the beauty of French walnut used in a simple yet elegant Henri II design to great advantage. The overall structure involves a two-door opening to ample storage space below two drawers with decorative, brass pulls typical of late 19th century, early 20th century construction. A pleasing aesthetic symmetry is provided by the decorative mouldings at top and bottom with the wider, bottom moulding supported by bun feet.
The door panels are particularly beautiful in terms of carving, displaying to advantage the rich, blond color of the walnut. Concentric rectangular mouldings set off a central "sand pile" motif typical of Henri II design and owing its origins to 16th century French cabinets, particularly of the Fontainebleau School of the Second Renaissance (1530-1580). Also typical of this design are the two fluted columns framing the cabinet opening below the drawers.
As the photos show, this piece may at one time have been the base of a two-piece cabinet judging by the plugs in the top.
Please note that the difficulty of photographing items of this size can result in color variations. We believe that the truest representation of the color is in the photograph at the top of this page.
Reference
Boccador, Jacqueline, Le Mobilier Français du Moyen Age à la Renaissance, Editions d'Art Monelle Hayot (Saint-Just-en-Chaussée, 1988); Boussel, Patrice, Les Styles du Moyen Age à Louis XIV (Baschet et Cie, Paris, 1979); Thirion, Jacques, Le Mobilier du Moyen Age et de la Renaissance en France (Editions Faton, Dijon, 1998)
Uses
This cabinet is ideal as a buffet in a dining room or kitchen as well as in other rooms of the house to store linens. It could even be used as a credenza in an office setting or library, or as the base for a wide-screen television.