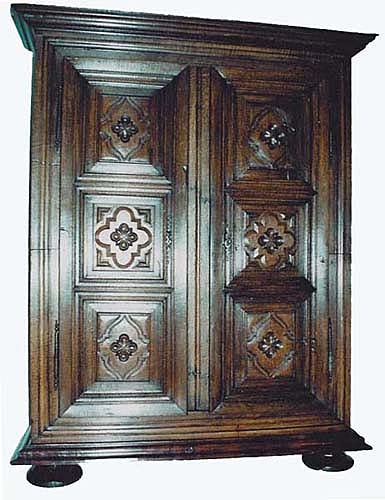 Price $2,995
Item 1018 - Width 65, Height 82, Depth 22 (in inches)
Wood - Oak
Date - Circa 1820
Country of Origin - France
Additional photos below text
This solid oak antique armoire is from northeastern France and was constructed possibly as early as the 18th century or early 19th century, judging by the hand-hewn elements, the large bun feet and the unique construction (the armoire breaks down into top and bottom pieces). Also supporting its age are the écoinçon panels on the sides and the fleurettes in the elongated quatrefoil panels, coupled with the fact that it was crafted from oak rather than walnut.
Antique armoires with similar door panels characterized by soufflets or stylized quatrefoils are claimed by both the Louis XIII and Louis XIV styles due to the rectilinear design elements surrounding the graceful carvings on the doors.
Parts of the interior have been replaced to shore up the base and there has been minor restoration to the carving as well as reinforcement of structural elements. Both doors lock and come with keys.
Reference
Fligny, Laurence, Le Mobilier en Picardie 1200-1700 (Picard Editeur, Paris, 1990); Quette, Anne-Marie, Le Mobilier Français Louis XIII et Louis XIV (Editions Massin, Paris, 1996)
Uses
The armoire can fill any of the modern-day uses such as storage for linens or clothing, or as an entertainment center. It is also suitable for offices and can be adapted for storage or display.