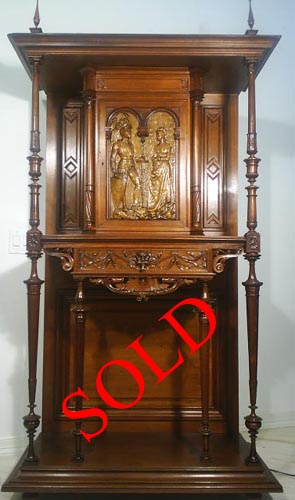 Item Width 40, Height 74, Depth 18½ (in inches)
Wood - Walnut
Date - Circa 1890
Country of Origin - France
Additional photos below text
We have dubbed this the "chivalry cabinet" — the only one of its kind we have ever seen and an enchanting example of the furniture-maker's art.
The arresting focal point of this antique cabinet is the rendition in terra cotta fired ceramic of a knight and lady forming the door of the central, enclosed space. It is enigmatic and raises more questions than it answers. For example, was the firing of the ceramic inset a one-off? Was the cabinet designed for it or vice versa? Was it inspired by medieval notions of knightly valor and feminine virtue or was it intended to commemorate a contemporary marriage? Why ceramic and not a wood carving or a metal casting?
While we can't answer any of these questions, we can highlight the beauty of the ceramic inset and appreciate its allegorical origins.
The knight strikes a valiant pose with his left foot and the sword in his left hand atop a slain lion, as if he has vanquished it to protect the demure looking damsel whose hands are folded primly and whose gaze is down-cast. Peeking out from below her skirt appears to be the head of a dog or is it a baby lion? The background is filled with tiny >fleur-de-lis, reinforcing the medieval French origins of this cabinet and perhaps a symbolic victory over the British lion? The ceramic inset takes advantage of another medieval custom by being placed within an architectural frame of two arches, similar to the way 14th and 15th century painters incorporated their frames into the drama of the Biblical scenes they depicted. This leads us to assume that the cabinet was designed around the ceramic inset, which may have had a life of its own preceding its incorporation into the cabinet.
As to the cabinet itself, it is hand-carved from a rich, fine-grained walnut whose light color perfectly complements the ceramic inset. The cabinet's basic shape and proportions made up of two-tiers with an open bottom and a central drawer below the enclosed space, evoke the designs of the 16th century master, Jacques Androuet du Cerceau.
In this respect it is also enigmatic in that other decorative elements reflect more of a Renaissance than a Medieval style. For example, the drawer has a central masque or grotesque from whose chin the drawer pull hangs. The other decoration on the drawer is dominated by trompe l'oeil drapery and tassels, themes common in 16th century French furniture. Below the drawer is a curved design of scrollwork and intricately carved leaves.
It was not uncommon in the 16th century to mix design elements from what we think of as Renaissance and Gothic periods, even though later art historians have come to view them as incompatible. The same can be said of French Gothic Revival and Renaissance Revival whose blend of stylistic elements is commonly referred to as Henri II.
Therefore, we expect that whoever commissioned this cabinet did so out of reverence for the medieval chivalry depicted in the ceramic inset to be housed in an understated Renaissance style framework.
The slim balusters acting as vertical supports and framing the spaces of the top and bottom tiers of this cabinet add a grace and refinement enhancing the prominence of the ceramic inset.
Perhaps the only unfortunate characteristic is that unlike most tall cabinets made during the 19th century in France, this one does not come apart.
Reference
Ader-Tajan, Collection Bruno Perrier Haute Epoque (Catalog for Sale at Auction on April 6, 1992 at the Hotel Drouot, Paris); Thirion, Jacques, Le Mobilier du Moyen Age et de la Renaissance en France (Editions Faton, Dijon, 1998); Viollet-le-Duc, Eugène, Le Mobilier Médiéval (Georges Bernage, editor) (Editions Heimdal, 2003)
Uses
This piece would make a lovely addition to a home, commemorating a marriage or a wedding anniversary. It works well in an entryway, living room, dining room or any other room where the mystery and nobility of a subject shrouded in the mists of history is lent prominence.